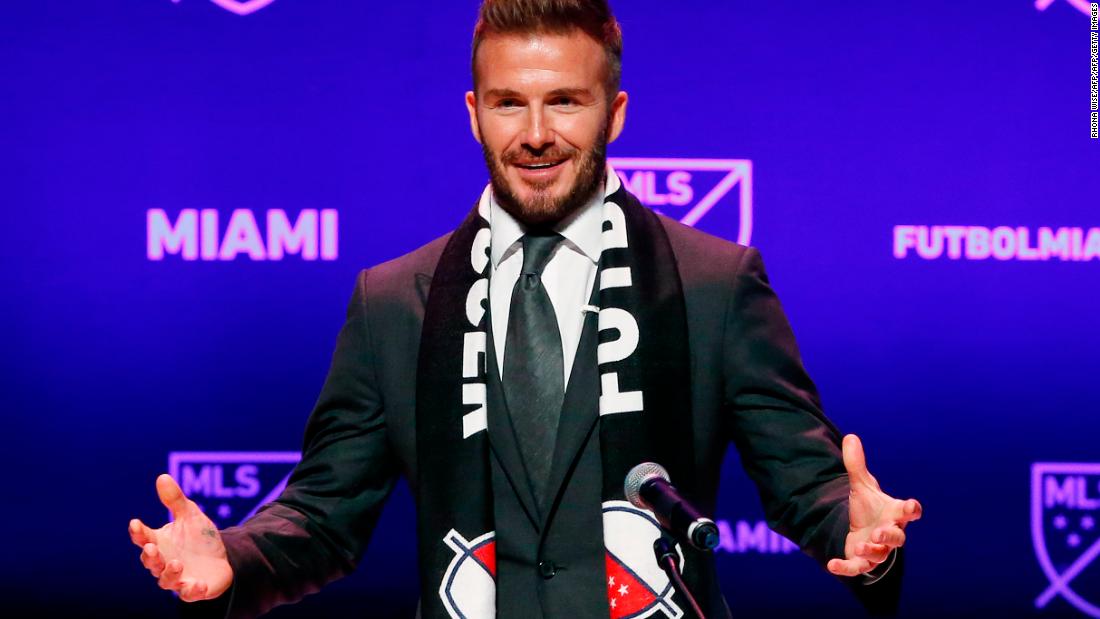 Founded in January 2018 and kicking their first competitive football this January coming, Inter Miami CF will become the latest MLS franchise. Fronted by England legend David Beckham and co-owned alongside a Bolivian-American businessman, the Chairman of the Cuban American National Foundation, and a Japanese billionaire, the club's leadership already reflects the community it will serve. That was continued in their first three signings: Argentine 19-year old duo Julián Carranza and Matías Pellegrini, and U20 Venezuela captain Christian Makoun. Inter Miami is destined to have a Latino feel.
This isn't Beckham's first foray into club ownership either. The former Manchester United midfielder owns a 10% stake in the rapidly ascending Salford City, a club taken over by his former teammates Ryan Giggs, Gary and Phil Neville, Paul Scholes, and Nicky Butt in 2014. Between the six of them, they have 60% ownership, with the remainder belonging to Singaporean former stockbroker Peter Lim. Even that is outdated, though. Beckham has had his eye on an MLS franchise since signing for LA Galaxy in 2007. At the time, he negotiated a clause into his contract allowing him to buy one at a discounted rate.
"To join the MLS you have to pay a franchise fee to the league, which costs $150 million," Todd Lewis of The Freekick Podcast explained to The Terrace. "The problem is, the league is growing too big and it really needs a promotion and relegation system; but how can that happen when you've charged all of those teams $150 million to join the MLS? Then if they get relegated, they've paid it for nothing. The league needs to figure out what to do in order to control the growth."
The structure has been ridiculed for years, but this season it has come under further scrutiny thanks to the outspoken – and ultimately correct – Zlatan Ibrahimović. It isn't something Beckham's Inter Miami should be worrying about, according to freelance football writer and Minnesota United fan Dominic José Bisogno.
"Expansion seasons in MLS can go various ways depending on the amount of time and money the franchise has to prepare its debut roster. Teams like Minnesota United and FC Cincinnati both struggled in their first MLS seasons due to poor roster building, while Atlanta United and LAFC have both had really successful debut seasons, with Atlanta winning the league in their second season. I see Miami as potentially having a more successful season as they have a really ambitious ownership group and are based in Miami, which should help them bring in really good players."
Located at the southern end of the east coast and just 90 miles from Cuba at its extreme point, Miami, as of the 2010 census, is 70% Hispanic. With 79 of the 192 'international roster slots' in the MLS taken by Latin Americans, it is responsible for 40% of the league's foreign imports, and that is before accounting for Latin American players who hold permanent residency in the US, such as the Venezuela and Atlanta United striker Josef Martínez, or qualify under the Homegrown International Rule. It is fair to say Miami, with its location, history, and demography, are well-positioned to attract the best talent from the continent below, and in turn attract spectators to the stands, who will see themselves in their club's players.
"It makes sense," Bisogno agreed. "it worked for LAFC [who] brought in a large number of Latino players (internationals and Americans of Latino descent) and it helped them develop one of the most Latino-focused atmospheres in the league. Their fan base is very diverse and the range of faces in the roster makes the fans more plugged in, I believe. It also means they'll sell more tickets, which doesn't hurt." 
For a team without history that final point is essential and the Field of Dreams line 'build it and they will come,' could not be more apt. In a country where a city's support can be swayed from sport to sport, it is vital they get off to a good start, otherwise, Univision Sports journalist Juan Carlos Rutilo told us, they could suffer the same fate as some of Miami's other sporting outfits.
"They are putting together an attractive team so that the fans come to see and support them," he believes. "I had the opportunity to be at Orlando City's debut game - another Florida team - and it was really spectacular. I think the main challenge will be to keep the fans hooked for the next few seasons and [hope] what happened to the Marlins in baseball does not happen to them; a team that has been doing poorly for years and now few fans support them."
There are four-and-a-half months to go before the start of the new MLS season, so that is roughly 18 weeks for Inter Miami to put the rest of their squad together. The current rumour, should it materialise, would be a huge coup to the fledgling side and a hammer blow to a team already resigned to losing their other attacking star.
Since the beginning of the week, PSG striker Edinson Cavani has been linked with the club, and although his contract doesn't expire until next summer, it certainly signals intent. The suggestion started with a series of tweets from Uruguayan journalist Alvaro Izquierdo.
"Cavani to MLS. The Uruguay forward could be a new face at Inter Miami at the end of his PSG contract next June. The top scorer in the history of PSG could bring goals to the new MLS franchise."
The Sun got rather carried away with the story and published a predicted line-up that contained Joe Hart, Fabio Coentrao, Sergio Busquets, and Antonio Valencia.
Paul McDonough, Inter Miami's sporting director poached from Atlanta United, a club they'll be looking to emulate and already have many parallels with, has already emphasised the club's focus on youth and potential. Having overseen there the purchase and development of Miguel Almirón, now at Newcastle, and Josef Martínez, now on everyone's radar but seemingly intent on staying put, followers of the embryonic outfit have much to look forward to. With Beckham still proving a poster boy at the age of 44, they'll undoubtedly be closely followed here, too.
By Jordan Florit - @TheFalseLibero
Jordan is currently writing Red Wine and Arepas: How Football is Becoming Venezuela's Religion. To pre-order it, visit his Kickstarter here. The Terrace subscribers have already been emailed an exclusive discount. Message Jordan if you no longer have it.
Written with the cooperation of the executive president of the Venezuelan Football League, Rubén Villavicencio, Red Wine and Arepas will feature exclusive interviews with players past and present.
He has already secured numerous interviews and meetings with Venezuelan players, managers, officials, journalists and fans, domestic and international, men and women, and will continue to work hard to arrange more. This includes members of the 2019 Copa América squad and teams from previous Copas, domestic league legends, young players at the beginning of their careers, and stars of the women's game. The whole project comes with the blessing and support of the executive president of the Venezuelan Football League Rubén Villavicencio, who will be coordinating much of his time in Caracas.