The capital of Venezuela, Caracas, is home to nearly 2 million Caraqueños, who have the choice of five top division football teams in their sprawling city to support: Caracas FC, Deportivo La Guaira*, Estudiantes de Caracas, Metropolitanos, and Atlético Venezuela. With 20 teams in the 2019 Apertura, the capital sides made up 25% of the competition. As Deportivo Anzoátegui's first team are not participating in the Clausura – the second stage of the season – the share has increased. Taking up three positions in the top ten of the Apertura were Caracas FC in 2nd, Atlético Venezuela in 8th, and Deportivo La Guaira in 10th.
With a passionate fanbase, Caracas FC immediately appealed to me and I hadn't been following their organised fan clubs and supporter groups for long before Los Demonios Rojos caught my eye. The Red Devils logo has a topless native Indian thrusting himself out of the centre of the club's Barcelona-esque shaped crest, holding a spear in his left hand and a flag depicting the colours of Caracas FC bleeding into those of the nation's flag in his right. Underneath, the motto reads 'Ana Karina Rote.' It means 'We Are Only People,' and is from an ancestral war cry dating back to when the Latin American and Caribbean people were fighting for freedom from the Spanish Empire.
"ANA KARINA ROTE, AUNCION PAPAROTO MANTORO ITOTO MANTO!"
"We are only people, there are no cowards here, nobody gives up, this land is ours!"
It certainly beats the repetitive drivel that echoes round many English Premier League grounds these days, though I am not sure it would carry much weight in the corporate soulless stands that are infiltrating the beautiful game here.
With 5528 followers on Twitter and 9725 likes on Facebook, it's fair to say that they're the club's biggest barra, yet that alone is not enough to be a good one. The best examples of Ultras, for lack of a better word, are, in my opinion, politically engaged, involved in their community, and a force for good. They're not, however, descriptions often bestowed upon football fans.
Some weeks after I first contacted LDR and as many before they had a part in their first league game of the Clausura being postponed and eventually written off as a 3-0 win to Deportivo Lara, it was their 30th anniversary. Their social media accounts were awash with positivity: events serving the community, such as free sports activities and family days, children having their face painted in the colours of their club, and, of course, preparations for the celebration of their third decade.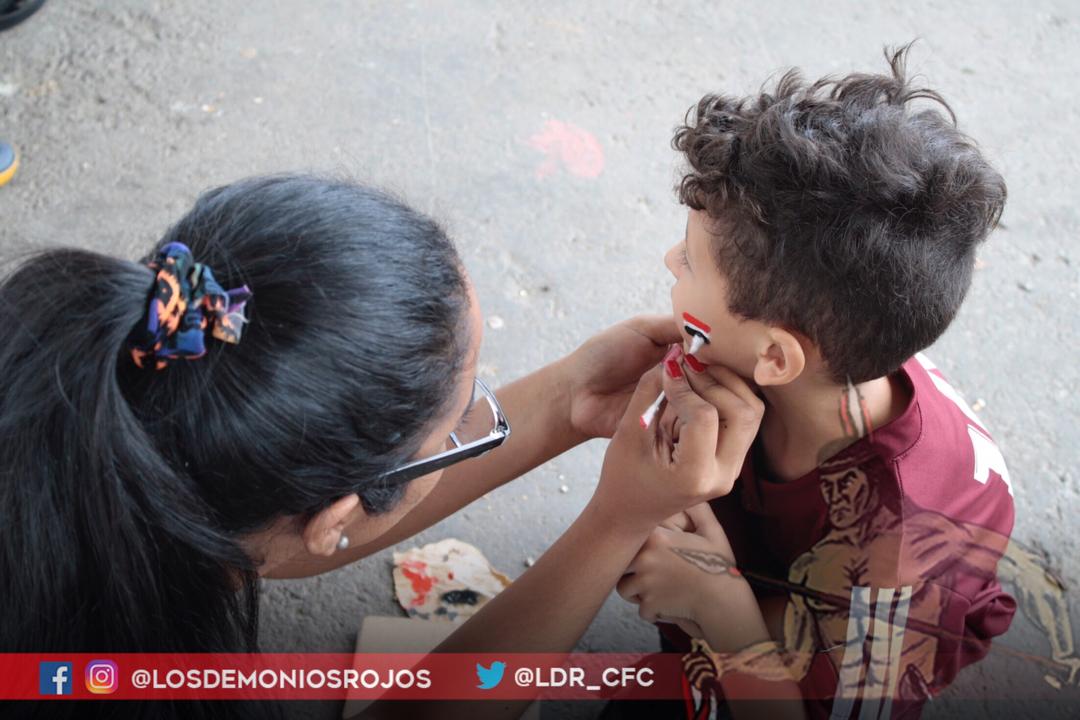 Still, actually contacting such an organisation 4656 miles away and one that I knew nothing about was daunting. It was important I made sure why I wanted to talk to them, to ideally meet with them, and, in a perfect world, attend some games with them, clear.
I'm currently writing a book on Venezuelan football and society, called Red Wine and Arepas: How Football is Becoming Venezuela's Religion, and it is fair to say that it won't be, nor would I want it to be, your usual football book. Venezuela is currently caught in an economic crisis; regardless of why that might be and who is to blame, it is an undeniable fact. It is also a politically charged country with a divided people. Football, however, has the power to unite and the ability to transcend most divisions.
At the moment, the conversation on Venezuela is purely political and there is no other lens through which to view a country of just over 30 million. I want to change that. I want to give people another way of learning about Venezuela and I believe football is a perfect anchor for an anthropological examination of contemporary Venezuelan society. We all know football is more than just a game and that 'more' is what this book will focus on.
I expressed these beliefs of mine as best I could to Los Demonios Rojos and one of their members – a guy called Víctor Velásquez. I believe that fan culture and supporter groups are an important part of the game and have a social and political responsibility to their communities. I told them this and that I wanted to talk with them about the role they play in Caracas - football and otherwise. I was as delighted as I was taken aback by the response.
They were happy to consider my proposal, but they wanted more information in order for my case to be put to the members at a meeting and discussed. It was progress but it was also a formality I did not expect. I fulfilled their request and 11 days later I got the response I was hoping for. Los Demonios Rojos were happy to meet, willing to talk, and keen to take me to a game and show me how they are organised.
"We'll help you with whatever you need," they ended their correspondence with, "provided it is within our powers and fits in with our guidelines as an organisation." I cannot wait.
Full of excitement, in the weeks that followed, I told people of my plans to spend time with LDR and I was met with dismay, disgust, and at best a precautionary word of advice. It wasn't massively unexpected, so I refused to be disheartened by it, and although I took the advice given seriously, the insults I took less so. Everything, apart from violence, has a place in football, whether you agree with it or not, and that will be a key feature throughout the process of writing this book.
With the conversations still fresh in my thoughts, July 28 came around and with it Caracas FC's first game of the Clausura – a home tie with Deportivo Lara, who had finished 14th in the Apertura. Apart from it never happened. It was suspended.
Los Demonios Rojos had nonviolent protests planned for the game; "peaceful," was the word they used - capitalised for stress. Instead, they say, unjust repression was used to avoid the fans' criticisms and their protests being seen or heard.
"It is inconceivable that some banners showing a collective stance are the trigger for not starting a football game," read a Tweet explaining the afternoon's events from LDR's perspective.
The banners carried messages calling for the president to resign, that the fans deserved more, and that signings were needed. "We come for the colours," one read, "failure since 2010," said another, but neither got their moment in the sun.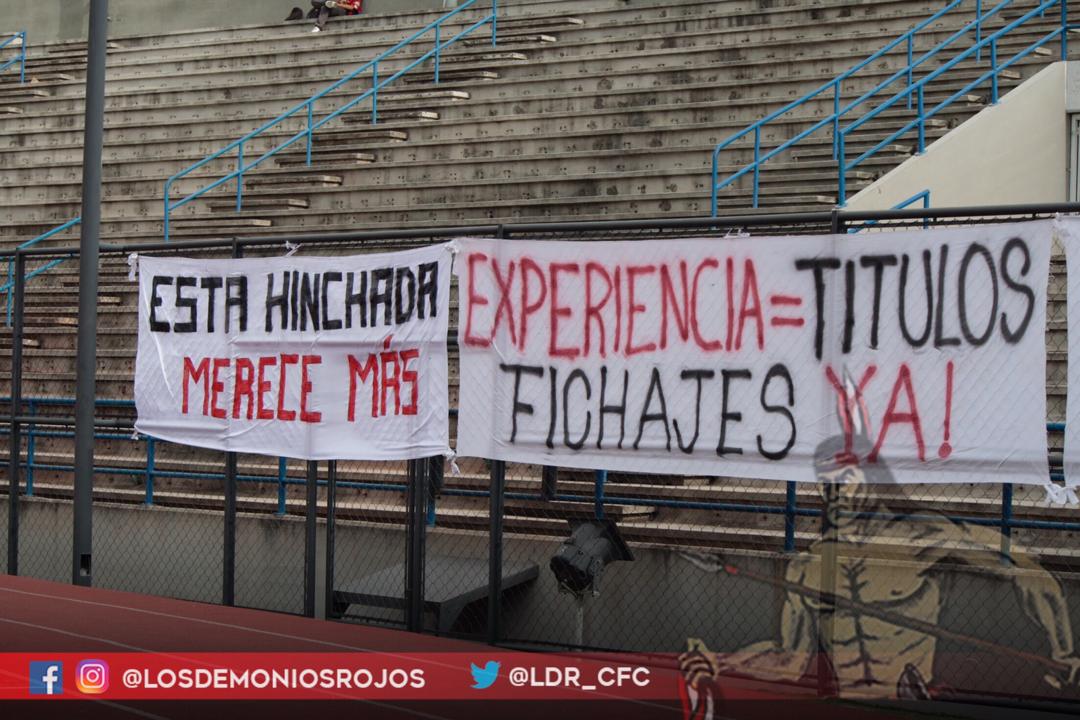 The police were called in to quash the protests before they had even begun, clashes occurred, and the game was postponed and later cancelled. For those suggesting my choice to spend time with them is ill-thought through, it was vindication. For me, it was reinforcement.
"We cannot rest content with the charge from Washington that this peaceful protest is unpatriotic," New York City Mayor John Lindsay said on October 15, 1969 in relation to the student protests against the Vietnam War. "The fact is that dissent is the highest form of patriotism."
Of course, I am not likening the running of Caracas FC with the US Government's approach to the Vietnam War – in fact, I have no further insight into the issue at hand – but the point is that dissent, protest, has a place in every sphere of society, and I look forward to not only discussing this with LDR but also the wider aims of the organisation and how they see their role in the community of the club and the city.
In light of what had happened, I spoke to Víctor again and told him of the concern some people had expressed over my plans to meet with LDR.
"It wouldn't be the first time someone tries to approach us and realises that others' prejudices are just that – prejudices. We don't expect good references from others in football and we don't care – they don't know us."
What Víctor said was in line with my thinking and my approach to Red Wine and Arepas: if I start approaching topics and people with preconceptions then I would have already failed in producing a book that aims to allow everyone their say, to factcheck statements of fact, but not to censor opinion.
"I'm not surprised you've received those comments. However, if you had been carried away by them, I'm sure you wouldn't have contacted us, and at this moment we wouldn't be talking. My family are proud of what I do in LDR. They see it brings me joy and that is what life is about – doing what causes us happiness."
*The club is from and represents La Guaira but is located in Caracas due to the restrictive geography of their home city
Photo Credits: Los Demonios Rojos
 By Jordan Florit - @TheFalseLibero
Jordan is currently writing Red Wine and Arepas: How Football is Becoming Venezuela's Religion. To pre-order it, visit his Kickstarter here. The Terrace subscribers have already been emailed an exclusive discount. Message Jordan if you no longer have it.
Written with the cooperation of the executive president of the Venezuelan Football League, Rubén Villavicencio, Red Wine and Arepas will feature exclusive interviews with players past and present.
He has already secured numerous interviews and meetings with Venezuelan players, managers, officials, journalists and fans, domestic and international, men and women, and will continue to work hard to arrange more. This includes members of the 2019 Copa América squad and teams from previous Copas, domestic league legends, young players at the beginning of their careers, and stars of the women's game. The whole project comes with the blessing and support of the executive president of the Venezuelan Football League Rubén Villavicencio, who will be coordinating much of his time in Caracas.